Homeless Based on WHAT She Looks Like
Meet Indika!
Indika got loose from her Brantford, Ontario home one day a couple weeks ago. She was found wandering or, as the city puts it, "running at large," so she was picked up and taken to the Brant County SPCA. Because she "looks" like a Pit Bull type dog, she falls under Ontario's Breed Specific Legislation (BSL) which bans her from living in the province of Ontario. Her owner came forward to claim her, but because he had no paperwork that would indicate her breed, he was not allowed to take her home.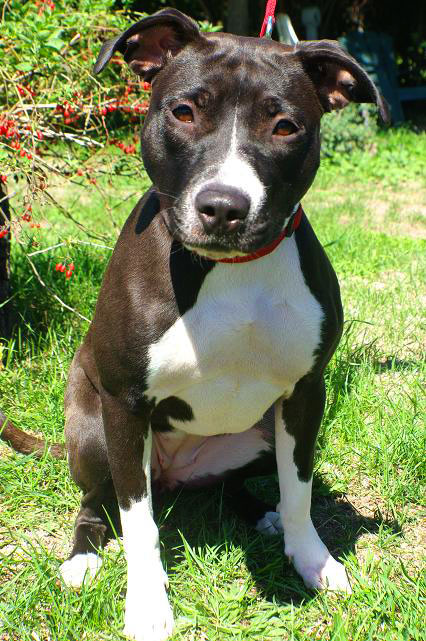 Had Indika been older, she could have been grandfathered into the law for being born before BSL went into effect on August 9, 2005. Pit Bulls already legally residing in the province before that date may remain legally in Ontario subject to certain conditions, such as spayed/neutered, microchipped, muzzled at all times off their property, and walked on a 3-foot leash.
As well, the owner needs to have a city issued sign prominently displayed on their residence and an insurance policy covering the fact that they own a now prohibited dog. But Indika is a youngster.
Brant County SPCA
Fortunately for Indika, Brant County SPCA is an animal-centric shelter. They go above and beyond to find homes for the animals in their care. They are reaching out to people outside Ontario who might be interested in adopting her.
Indika is approximately 8 months old and in good health. Her first set of vaccines, flea treatment and deworming have been done. She is negative for heartworms and is set to be spayed next week.
Typical of a pitty, she is very affectionate; she thinks she is a lap dog and loves being around people! She is very tolerant of other dogs, and is very well-mannered all around.
Indika has been SAFER tested and scored all 1's which is ideal! She went through the Meet Your Match program as well. Her CanineAlity for the Meet Your Match was Go Getter (green). It is probably the busiest/most outgoing level and that makes sense. She is still a puppy which definitely ups her activity level!
According to Niki at Brant County SPCA, Indika's "a great dog with a wonderful temperament and we wouldn't have a problem adopting her out at all." Except they are located in Ontario.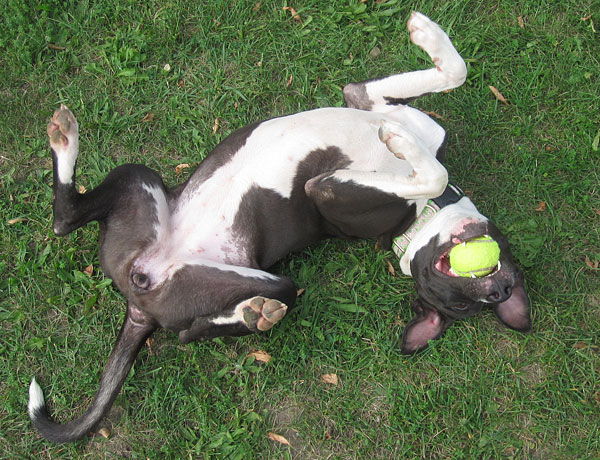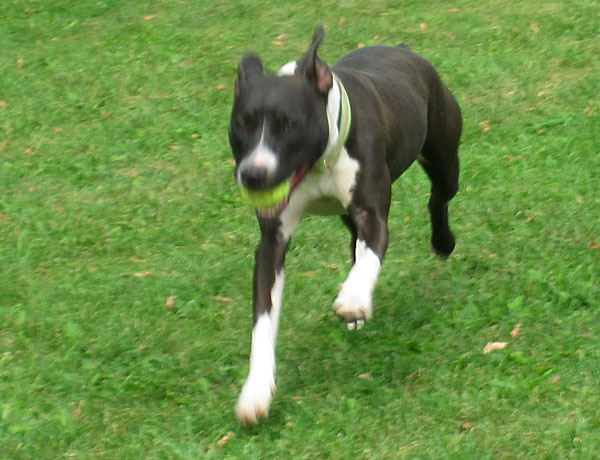 ---
If you are interested in learning more about Indika, please contact Niki via email or you can call her at: (519) 756-6620.